Risk assessment and risk management require some work
A Scandinavian Airlines (SAS) turboprop carrying 44 people en route from Bergen to Copenhagen whose landing gear failed to fully extend, crash-landed at Copenhagen airport.
SAS will stop flying its 27 Dash 8 Q400 planes immediately.
We previously reported about the 2 crash-landing's with SAS Dash-8 or Q400 planes in early September here:- SAS risk management – after 2 crashes we get damage control
In the above story we informed our readers that SAS admitted that prior to Sunday's accident in Aalborg (2007-09-09), problems with the aircraft's main landing gear had been identified, and the pilots had prepared for an emergency landing.
Such an emergency landing followed 2007-09-12 (Wednesday) when another Q400 had to do a crash-landing in Vilunius (Luthuania).Based on the above, Bomardier recommended grounding of the planes and check-up work on each to see why the landing gear failed to fully extend. While investigations have not been concluded at this time, pre-liminary findings by the Lithuanian Civil Aviation Administration and the Danish authorities suggest corrision problems with the landing gear, see also:
– 2007-10-29- Accident Investigation Board Denmark issued a press release
Now, 2007-10-28 (Saturday) another crash-landing happened of the same type of aircraft with the same carrier. Fortunately nobody was seriously injured.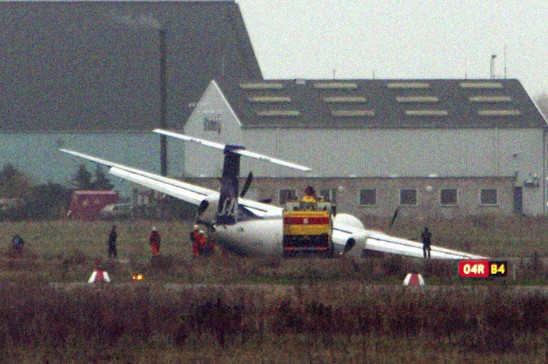 If you cannot view the above image click here to view the picture:2007-10-27-SAS Q400 – Bombardier – Flight SK2867 from Bergen crash-lands in Cph
The Q400 accounts for about five per cent of the airline's passenger load.Scandinavian aviation authorities on Saturday issued a new flight ban on all SAS's Q400 turboprops shortly after the incident.
SAS saw no alternative but to cancel 49 flights on Sunday (2007-10-28), 67 (55 from Copenhagen and 12 from Stockholm) flights on Monday, 44 (37 Cph and 7 from Stockholm) on Tusday and 30 on Wednesday (all Cph, Stockholm nothing posted as of 2007-10-29).
– list SAS flights cancelled that use Dash-8 or Q400 Bombardier plane as available of 2007-10-29 – Monday
RISK ASSESSMENT AND RISK MANAGEMENT BY SAS
SAS grounded its entire fleet of 27 Bombardier-manufactured turboprops for three weeks for inspections and repairs. Flights with the aircraft were resumed in early October. After the 2007-10-27 crash whereby the plane was sliding onto its right wing after the landing gear collapsed (see above picture) the firm issued a press release.
Paraphrased the press release states that since customers have no confidence in this particular aircraft type any longer, the company had no other choice but not just to ground Q400 Bombardier planes but, in fact, remove them from the fleet. If Mats Jansson, SAS chief executive means selling these planes to another airline that then has the risk or to put the planes out to pasture is unclear when reading the press release:
– SAS removes Dash 8 from its fleet – took a long time – is this effective risk management or will maybe Horizon Air (USA) purchase these planes and take the risk?
At first, SAS' decision to stop using Q400 planes after the crash landing sounds impressive. Nonetheless, one must still raise the question why its board of directors as well as top management was willing to take these risks?
SAS did assess the risk of the landing-gear problem before and has confirmed that it provided its flight crews with special training to cope with a possible crash landing as happend in September in Aalborg and Vilnius. Thereafter, all Q400 planes underwent a check-up that also involved work on the landing gear. Now the planes had just been given a clean bill of health and allowed to resume flights again for SAS.
Considering the above facts suggests that making the above decision to remove the planes does not indicate proper risk management. In fact it suggest that the board and top management were wiling to take the risk again with the plane (what maintenance work was really done we will know only after the Danish authorities will release their investigation report in about a year's time) and pokered too high. Now the firm is left with no other choice but to cut its losses by removing these planes from its fleet. Is that good risk management or does it indicate a failure in risk assessment procedures?
After this third near-crash incident with this type of plane, reputation management is now an issue and the damage to the SAS brand cannot be underestimated (naturally this applies to Bomardier, the manufacturer of the plane as well). Hence, the board saw no other alternative but to take drastic action by removing the planes from SAS' fleet. But is that good risk management or is failure to manage the risk. Shareholders (50% owned by taxpayers) will have to pay the price (reputational damage, reduced revenues, etc.)
TIDBIT
SAS, 50 percent owned by the governments of Sweden, Denmark and Norway, restarted Q400 flights this month after hundreds of cancellations and after replacing part of the landing gear. The airline wants compensation from Bombardier to cover the losses. We reported about this here:
– SAS risk management – after 2 crashes we get damage control
The collapse of the main landing gear in the September incidents in Aalborg and Riga has been attributed to corrosion. However, the investigation by Danish and Luthanian authorities has not been completed so far.
SAS was the first airline to begin flying the Q400 in January 2000.
PS. why not do it better than SAS
– 3 effective risk management saves money and is ethical
TIDBIT
– risk assessment and risk management – Scandinavian Airlines fails to use the six-step process
–  SAS risk management – after 3 near-crashes investors are paying the price for bad risk assessment
SUBSCRIPTION
To make it more convenient for you to take advantage of CyTRAP Labs' offerings, just provide us with your e-mail address below. You can personalize your subscription to make it suit your needs.