i. What our clients think

This page is part of the client section of our services, which include: social media package, workshops and conferences, what our clients think (you are here), compliments and Komplimente,  generating more revenue with Web 2.0, deadly sins of Web 2.0.
Our customers work in all sorts of business sectors and industries, for-profit or non-governmental organizations (NGOs) as well as government agencies.
Clients may be senior managers or business owners guiding their organization's strategy when it comes to the use of social media (e.g., blogs, micro-blogging on Twitter, or Facebook fan pages)  for better customer engagement and improving risk management (e.g., with Facebook and reputation management or possible identity theft) for data and information security (e.g., against spyware, spam attacks, malware).
Despite these differences clients share a number of common goals. They may wish to:
Accelerate their social media ROI  in increasingly competitive business environments.
Reach strategic objectives and Key Performance Indicator(s) (KPIs) set for social media marketing and corporate governance.
Assess and strengthen risk monitoring and data security with actionable metrics.
Make an immediate, measurable and lasting difference in their organization's social media engagement.
Improve their use of best practice and standards when it comes to social media applications and risk management.
Benchmark social media to improve bottom line effects.
Demonstrate ROI by applying cost-benefit analysis.
Social media package
BERGFALKE.ch (hiking, river rafting, climbing) and FalkEvent.ch (corporate events, outdoor team building exercises) approached us for support improving their effectiveness using social media for customer engagement.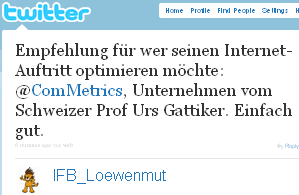 We offered them personalised coaching and support regarding the establishing, running and managing of their social media campaigns including but not limited to their corporate blog.
We provide SEO management services as well as web analytics and use MyComMetrics to benchmark their blog against those considered best practice and competitors.
Anita Roessel (CEO) states: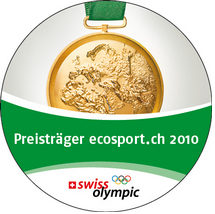 "The service we got fit our needs perfectly and allowed us move up on the learning curve quickly, thereby improving our effectiveness for engaging with our clients and potential customers through social media.
I particularly liked the cost-benefit analysis framework that Urs' team put in place for us. It made it possible to demonstrate the positive effect this work has on our bottom line.   It took just three months and we could already see a positive change."
Benchmarking corporate blogs
When the Financial Times approached us for help regarding benchmarking the world's largest companies' corporate blogs, we developed an application to solve this problem.

We choose to benchmark and rank these blogs regarding their ComMetrics Footprint index.  The first issue of the FT ComMetrics Blog Index was released May 2009.
Financial Times ComMetrics Blog Index FTCBI – Business Case (62.0 KiB)
"We are publishing a feature based on findings from the FT ComMetrics Blog Index in the Digital Business print section of our newspaper on May 14, as well on FT.com. It looks at emerging knowledge, trends and issues that are important to businesses' overall social media and blogging strategy," explains Peter Whitehead, editor of FT Digital Business.
PRESS RELEASE – FT ComMetrics Blog Index (119.4 KiB)
Financial Times ComMetrics Blog Index FTCBI – FT articles(152.5 KiB)
The next update will be published during Fall/Winter 2010.  It will include additional measures to assess the ComMetrics Resonance Check, ComMetrics Health Check and others.
My.ComMetrics – web-based benchmark tool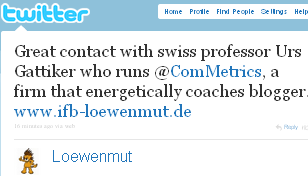 This tool evolved out of our clients' need to benchmark blogging efforts. In order to be able to collect actionable metrics quickly, customers wanted a tool that  would facilitate improvements in subsequent months of the benchmarking exercise.
For this purpose we developed My.ComMetrics that allows users to benchmark their private weblogs or corporate ones to copy best practice. The tool enables one to monitor social media activities. The tool first takes a baseline picture of how the blog stacks up performance wise and then charts the trends to indicate performance improvements and, as importantly, where changes could result in higher performance.
Besides the ComMetrics Footprint Index, the tool assesses various other indicators and metrics such as the ComMetrics Resonance Check, ComMetrics Health Check as well as other factors that provide users with actionable metrics.
To lead a purpose-driven social media strategy, the tool supports management's efforts in answering these five questions:
1  What is our blog's mission?
2 Who is our targeted customer for the blog?
3 What does the customer value?
4 What are the results attained with the blog?
5 What is our plan to improve social media engagement with the tools we use, such as our blog(s), Facebook and/or Twitter?
Protecting information assets
ENISA – European Network and Information Security Agency – European Union is charged with providing expertise and support for combating cyber-crime, while helping governments and citizens to better manage the daily threats they face at home and at work  when it comes to information security and privacy protection.
Andrea Perotti – Executive Director states:
"Whether it be the dangers in social networks, the concern for child protection, online or privacy and data protection challenges, ENISA is tackling the problem."
On ENISA 's behalf, CyTRAP Labs conducted an extensive study of Member States' measures deployed for enhancing resilience of public communication networks.  Ultimately, 25 Member States provided information during phone interviews and discussions that allowed an inventory of approaches used to better protect public e-communication networks.
The final report of the study and a 2-day workshop that was held enabled Member States and stakeholders including the European Commission to learn more about strengths and weaknesses in the approaches implemented ranging from regulatory to technical solutions for enhancing network resilience.  Best practices evolved from this work and are now being implemented by national and international organisations including operators.
We welcome the prospect of counting you among our satisfied customers.